This website is about one of the Steen Skybolts in Stockholm, Sweden. It has, after several years of building, finally made its first flight on May 30, 2010. 33 years after the first wing rib was made.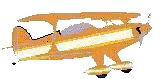 Click the icon
Last update: june 16, 2011
Unfortunatly, local politicians have killed most of the non-commercial aviation activities in the Stockholm area. And therefore there are very few airfields available.
Webmister/Webfarbror
Anders Hägglund
anders@skybolt.se Copyright ©